More and more Singaporeans are becoming interested in online betting and are actively searching for reputable Singapore betting sites. Bettors typically search for Singapore Pools or foreign sportsbooks and online casinos, with the former being the only legal option for Singaporeans. S'pore Pools is a top option for online betting in the country while also being the only legal option, but what is Singapore Pools?
Singapore Pools is the sole legal lottery subsidiary company in Singapore. The government set it up to combat illegal gambling instead of banning the activity altogether. It was even exempted from the Remote Gambling Act 2014, so bettors can bet through Singapore Pools online, as long as they steer clear of fake Singapore Pools sites and apps.
What are the Betting Options in Singapore Pools?
Because Singapore Pools is a lottery subsidiary company, bettors can buy TOTO online to try their luck in the lottery. Other options include sports betting which includes football betting, motor racing, and horse racing.
Bettors will find that their options are limited when betting through Singapore Pools, especially since their football betting options are limited to a few popular leagues. Keep in mind that football is the only ball game available for betting, and this can prompt bettors to look for alternative SG football odds through foreign sportsbooks.
Singapore Pools Lottery
Singapore Pools currently offers three lottery options:
Bettors can play any of these games through Singapore Pools, or they can try an alternative for TOTO bets in SG in an online casino.
4D
4D is a 4-digit lottery game and is the most popular Singapore Pools lottery game. This game was launched one year after TOTO.
To play 4D, bettors must choose a 4-digit number from 0000 to 9999. 23 different 4-digit numbers are electronically drawn on Wednesday, Saturday, and Sunday at 6:30 pm.
To win 4D, the player's number must match with at least one of the numbers drawn in the 1st Prize, 2nd Prize, 3rd Prize, Starter Prizes, and Consolation Prizes categories. The winnings will depend on the category of the matching number.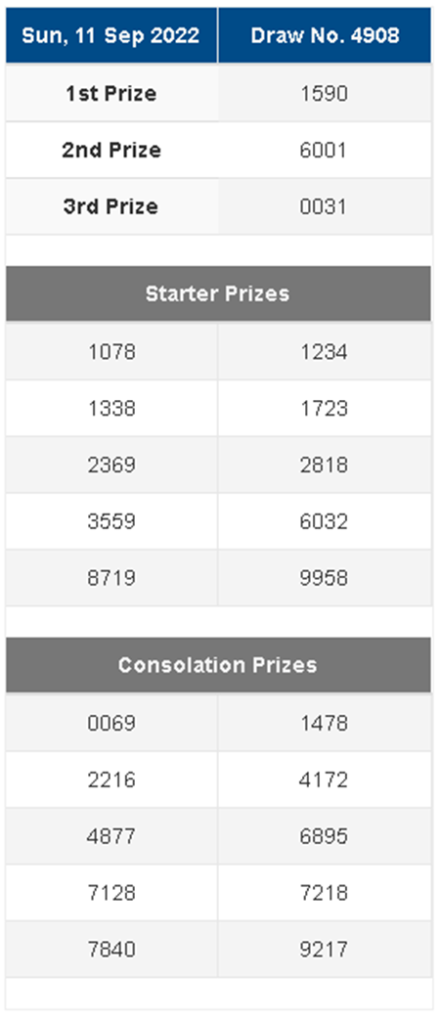 Read More: Everything You Need to Know About 4D
TOTO
Toto is a standard 6/49 game offered by Singapore Pools and is the second most popular game in Singapore. Toto is the first game launched by Singapore Pools.
To play TOTO, bettors must choose at least six numbers between from 1 to 49. The six winning numbers and one additional number are drawn every Monday and Thursday at 6:30 pm. If the draw is a cascade draw, the draw time will be at 9:30 pm.
To win, the player's number must match the numbers drawn. Even if at least only three of the winning numbers match the player's chosen numbers, they win a prize.
Singapore Sweep
Singapore Sweep is a seven-digit sweepstake-style game. Released in 1969, this is the third game released by Singapore Pools.
To play Singapore Sweep, players must select a seven-digit number from 1000000 to 4499999. 133 winning number combinations and nine sets of winning two-digit numbers, the last two digits in the seven-digit number, are drawn every first Wednesday of the month at 6:30 pm.
To win a prize of at least $1,000 to $2.3 million, the player's number must match at least one of the 133 winning combinations drawn. If the last two digits of the player's number match any of the nine winning two-digit numbers drawn, they win $6.
Singapore Pools Sports Betting
Singapore Pools currently offers two sports betting options:
Bettors can bet on any of these games through Singapore Pools, or they can try an alternative for Singapore football betting or motor racing.
Football Betting
Many Singaporeans are sports fans or love to bet on sports, especially the English Premier League and other well-known sports leagues. Singapore Pools offers odds on different popular sports events worldwide, but it might not exactly have all the odds for early betting.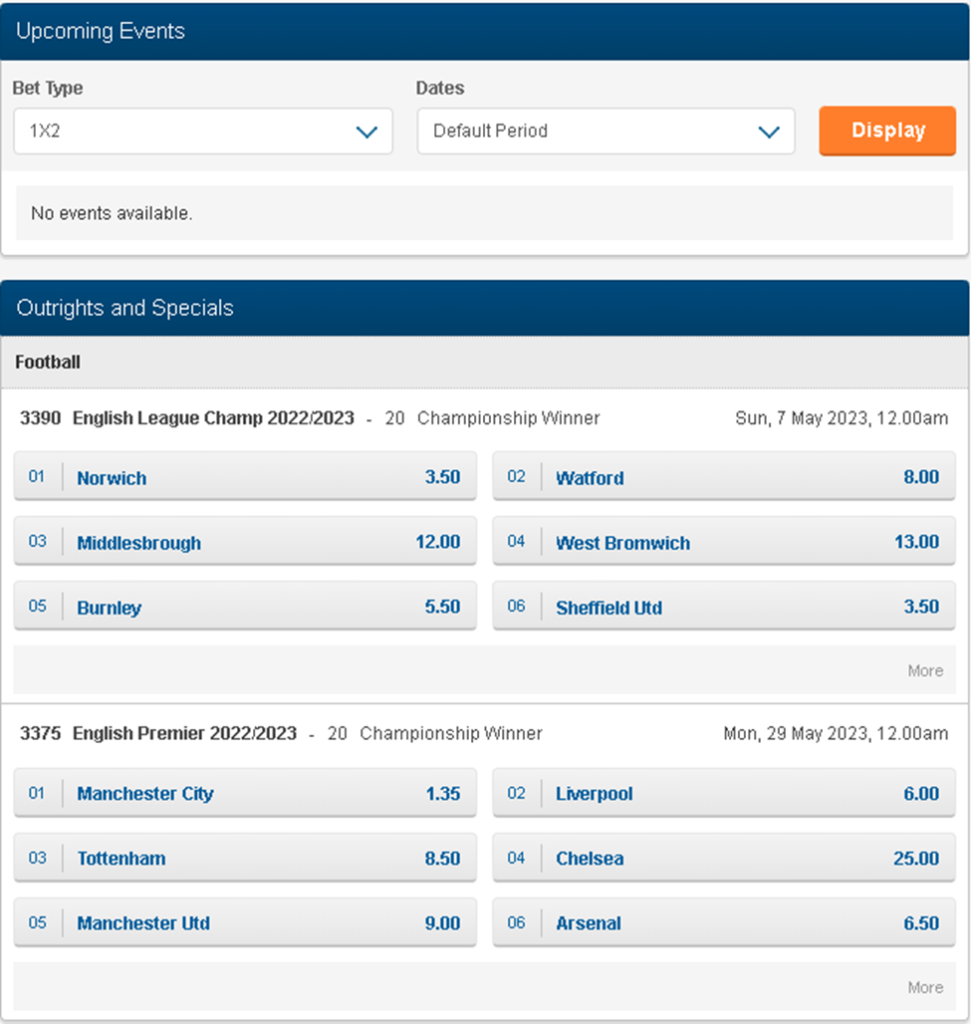 As of September 13, 2022, Singapore Pools does not have odds for both the English League Champ 2022/2023 and English Premier League 2022/2023, except for outright odds. This can be disadvantageous for sports bettors who want to place early bets since they won't be able to do so through Singapore Pools. If they really want to place early bets, they'll need to look for alternatives to Singapore Pools odds through foreign sportsbooks like United Gaming or M8Bet.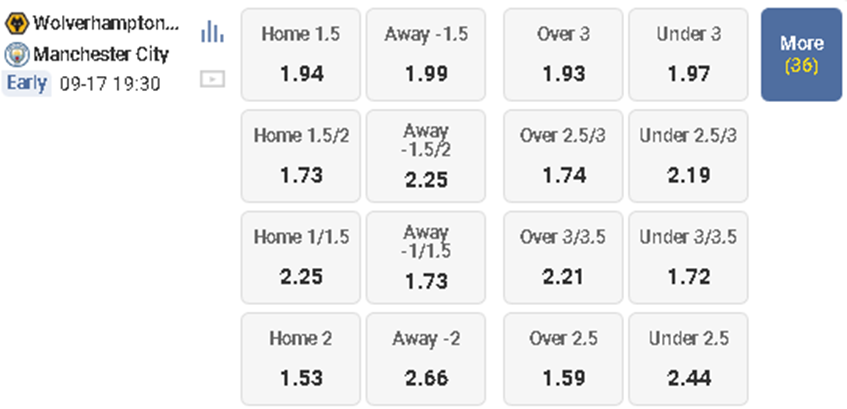 If bettors don't want to look for alternative betting sites, they can stay betting with Singapore Pools and look into the other leagues they cover. Singapore Pools will likely have some odds on other matches, like a few J1 League matches.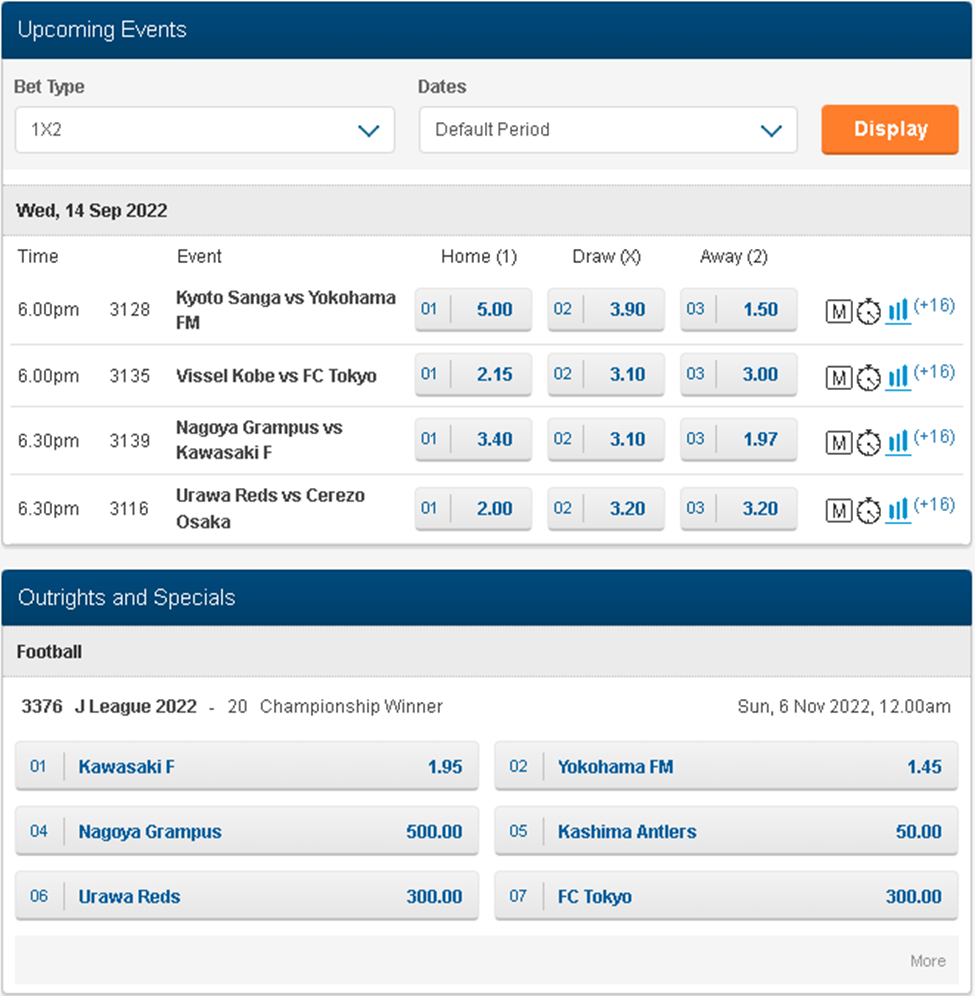 Motor Racing
Betting on F1 motor races is another option for Singaporean bettors. The highest level of motor racing competitions was formulated in 1946, and the first world championship occurred in 1950. Since then, motor racing has become popular worldwide and one of the most watched sports.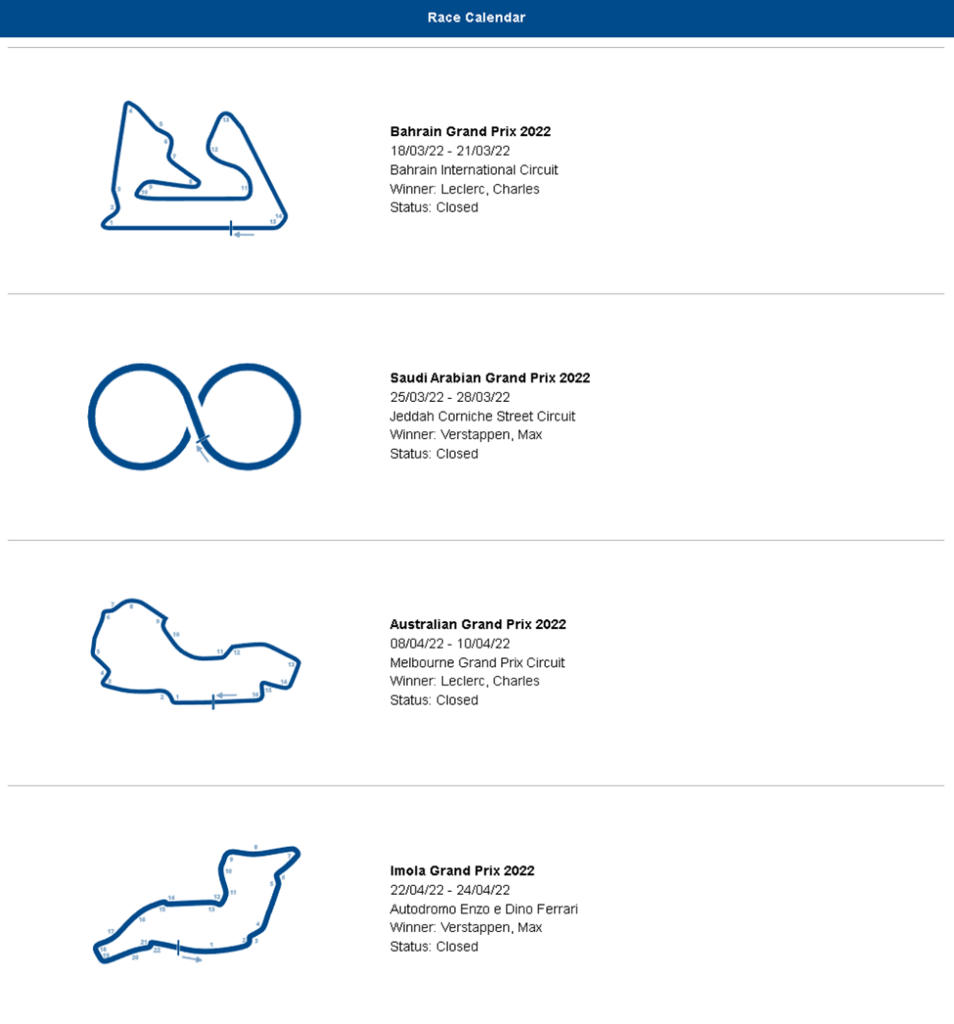 Singapore Pools Horse Racing
Singapore Pools offers horse betting straightforwardly, with many different events and race cards to choose from.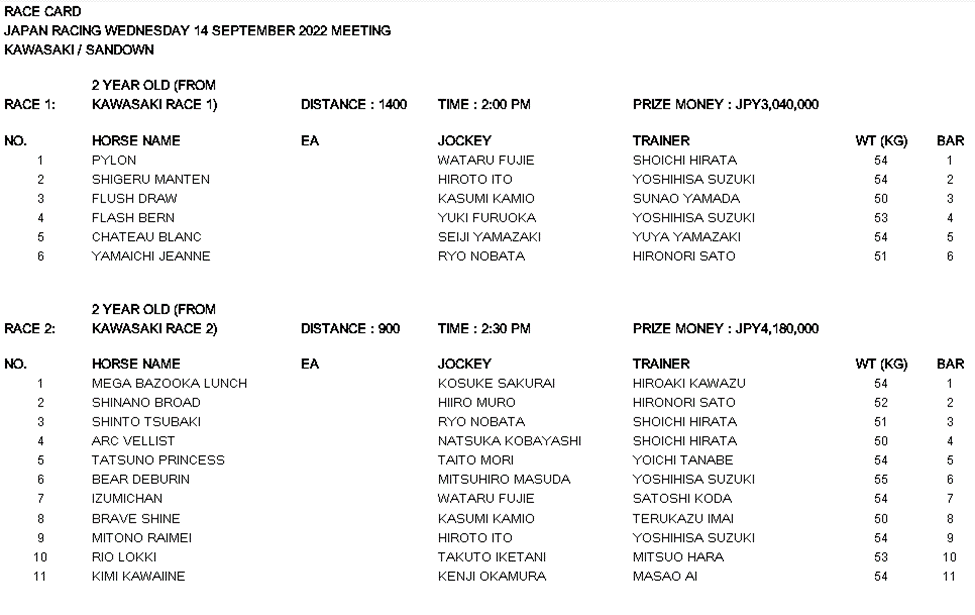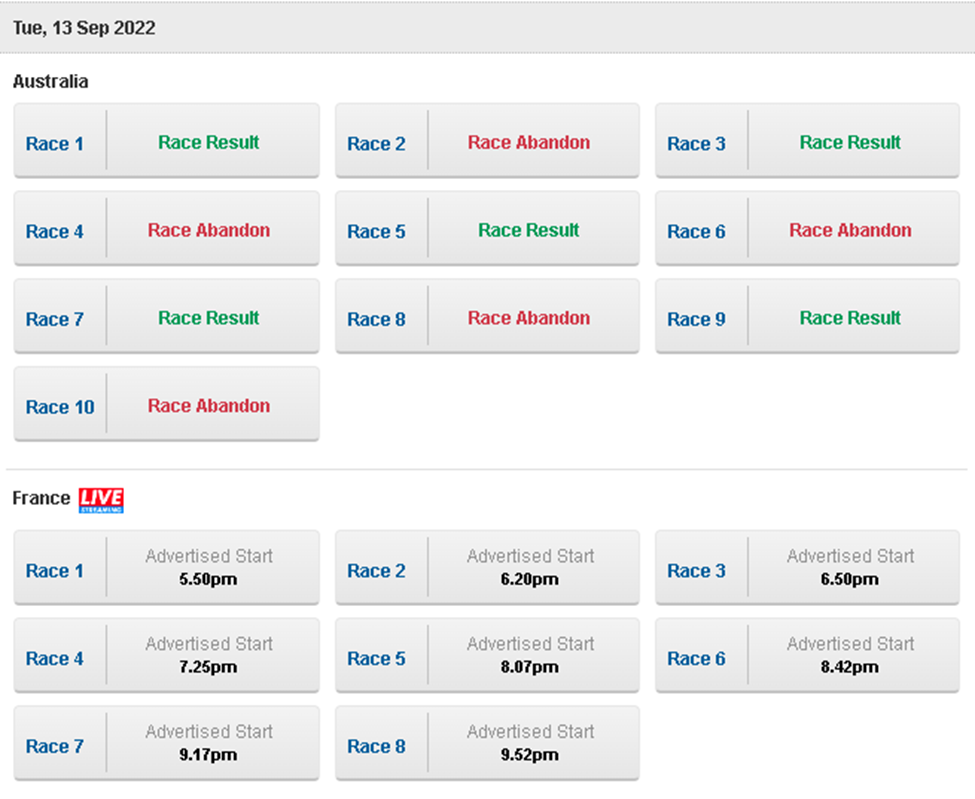 When betting through alternative Singapore Pools horse racing sites, bettors will likely see different formats of race cards and betting options, as well as covered races and racetracks.
Should You Bet Through Singapore Pools or Foreign Sportsbooks?
Based on the information above, it's already a given that Singapore Pools has fewer offerings than foreign sportsbooks. However, this shouldn't automatically discourage bettors from betting through the platform.
Surplus from Singapore Pools Goes to the Community
Losing is normal in betting, so there's no surprise that Singapore Pools will be winning a lot of money as long as people continue to bet through them. The more people lose in Singapore Pools betting, the more they can help the country. A portion of a bettor's losses can go to charity, community development, education, sports, and others.
If you want to help your country in your own way, betting through Singapore Pools and losing is a valid way to do it. The more you lose, the more good karma you'd get.
Singapore Pools has Already Funded the Country's Landmarks
Thanks to the profits accumulated by Singapore Pools, it has already managed to fund the following landmarks:
Singapore's first National Stadium
Singapore Indoor Stadium
The Esplanade
The Sports Hub
Gardens By The Bay
You can technically say you helped build these landmarks if you placed bets before they were built. If any more landmarks are built in the near future, you can definitely say that you helped fund them.
Singapore Pools Funds Singapore's Monumental Events
Singapore Pools also funds different events, like the National Day Parade and the Chingay Parade. If you're celebrating with friends and foreigners, you can say that it's not only taxpayer money at work during the parade and the fireworks show but also the money you lost when playing TOTO or betting on sports.
Singapore Pools has Limited Betting Options
The fact that Singapore Pools only has a few betting options, with a complete lack of casino games and ball game sports betting apart from football. Online casinos and foreign sportsbooks will have more options for bettors, so it's better to register in an online casino to have access to more games and odds when Singapore Pools is obviously lacking.
Betting online outside Singapore Pools is risky since it's illegal, but bettors can take the risk since the offshore casinos and sportsbooks themselves can legally take in Singaporean bettors.
Read More: How to Bet Legally in Singapore?
If you don't want to take any more risks, stay with Singapore Pools.
How to Look for the Right Alternative to Singapore Pools?
Singapore Pools doesn't have all the betting options that online casinos typically offer, so some bettors might be dissatisfied with SG Pools. When looking for alternatives to Singapore Pools, bettors must do their due diligence to ensure they won't have suspicious betting patterns and register in a reputable online casino.
It's essential to stay safe when playing in an online casino, and one way to do so is by registering with 88ProAsia. 88ProAsia is a leading online casino in Singapore with different game providers offering great betting options and some of the best odds to compete with Singapore Pools. Of course, staying with Singapore Pools is a legitimate option, as long as you know that you're not getting scammed by fake apps.