Sports betting is prevalent in both Singapore and Malaysia, and many people are actively participating in sportsbook betting in Singapore or Malaysia or betting through Singapore Pools. Even though many people love to bet on sports, it doesn't mean that many people profit from betting, especially since losing is the norm in betting.
It's possible to improve one's chances of winning by sticking to some of the safest betting markets available. Among them will include the following:
Moneyline/1X2
Over/Under Totals
Double Chance
Both Teams To Score
These markets are among the safest markets, but they aren't profitable outside of parlays or high-rolling. Other markets are better even when betting on short odds, but it isn't easy to win in such markets. Veteran bettors might be able to take advantage of such markets because they already have a good idea of the participating teams. Still, rookie bettors can add betting on such markets to a list of mistakes that bettors usually make.
Among such markets are the following:
Outright
The outright betting market can have great odds, even for the favourites early in the season. The only problem is that it's tough to guess the correct outcome. In the case of the English Premier League, only more accessible selection in the outright market is thinking which teams will be relegated as there are three possible correct choices.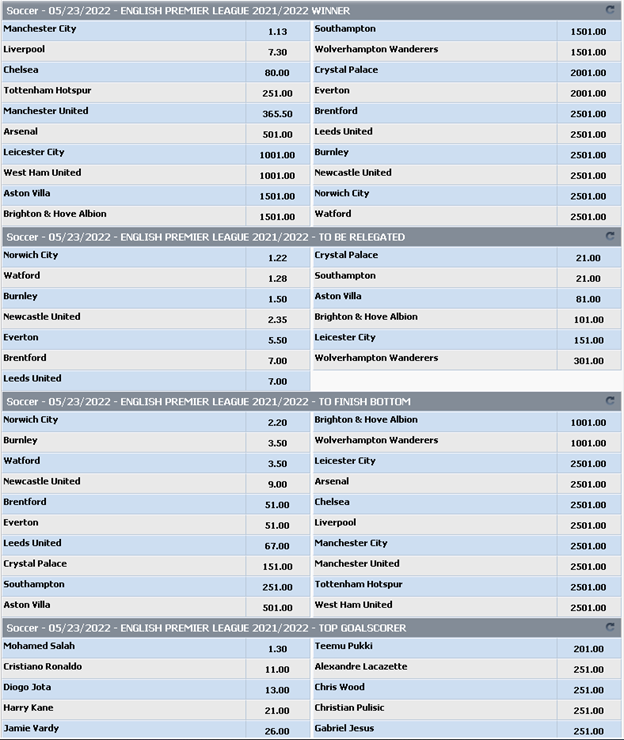 Several selections under the Outright market, including the Winner, To Be Relegated, To Finish Bottom, and Top Goalscorer options by CMD 368.
Sportsbooks and SG pools odds for outright selections will be high due to how difficult it is to guess the correct outcome, especially when betting early. When betting late in the season, bettors will see the odds drop to the point that they aren't that profitable compared to when it was early in the season, unless it's already pretty obvious that the favourite will win.
Betting using the outright market may not be that profitable compared to betting on parlays, but some bettors managed to win big after placing an outright bet. One of such notable successes was when Leicester overcame the 5000-1 odds and became the champions of the 2015/16 season of the Premier League. One bettor who placed a £100 bet on Leicester winning the league won £200,000 and even made history one of the most significant sports betting wins in history.
Replicating the bet on Leicester today is nearly impossible, and rookie bettors shouldn't try doing this if they aim to make a profit. If they only want to support a team by betting on them, they can hope they get lucky.
Correct Score
Betting on the number of goals in a football match is fun, but betting on how many scores BOTH TEAMS made in a game is complex. Bettors always have many options available when betting on the correct score, and the odds will vary per option.
Short odds betting is a good option that many greenhorn bettors use when betting on most markets, but it won't help in a correct score. The lowest odds in correct score do not guarantee a win, unlike when sticking to the favourite when Moneyline betting. A particular combination of home and away scores could have the lowest odds, while another similar selection has better odds. The latter choice might win, but there is also a chance that a completely different score combination will win.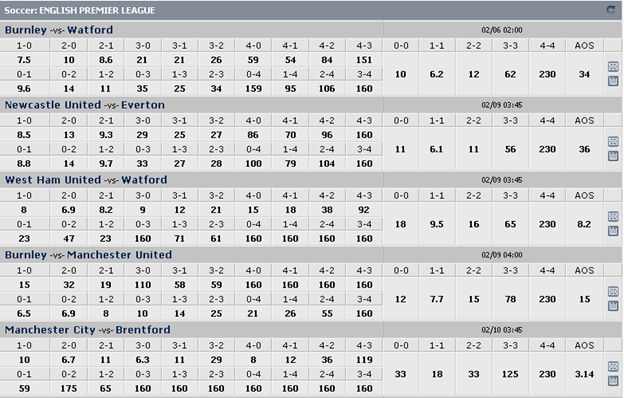 Several matches are listed in the Correct Score market by CMD 368.
In the correct score market sample above, people can see multiple options to choose from. Below the scores are the odds for those selections, and a lot of those scores have high odds, making short odds betting impossible.
Several sportsbooks can also offer odds on the 1st Half Correct Score, and bettors can make their lives easier by betting on them than the full-time option.
Exact Total Goals
Like the correct score market, betting on the exact number of goals made in a match, disregarding which teams made the score, is fun and exciting. However, the precise total goals market is more accessible than the correct score market because bettors don't have to think of a score combination.
Sports bettors only need to guess the total number of goals, but it is still difficult to predict even when considering that soccer is low-scoring. Sticking to the 1 goal, 2 goals, and the 3 goals selection may be safe for bettors, but they need to remember to guess the EXACT number of goals made in a match.
Exact Total Goals and the easier Exact Home/Away Team Goals market offered by CMD 368 on a 2022 FIFA World Cup Asia Qualifiers match between Japan and China.
Should Singaporean bettors want to bet through Singapore Pools, they will see the market offered as the total goals market, unlike a sportsbook's regular total goals market. The bettor must bet on the exact number of goals.

Rookie bettors can try betting on exact total goals, but they will have difficulty profiting from the market due to how difficult it is to win. Any losses they incur can easily be won back by staking high and getting lucky on a bet, but they'll have to be betting on short odds first not to accumulate lots of losses. Rookies can try betting on a safer alternative to exact total goals, namely the sportsbook's regular total goals market, where bettors can bet on a range of scores, which is arguably more beginner-friendly than precise total goals.
Half-Time/Full-Time
When placing Moneyline and correct score bets, bettors will likely see some half-time or first half betting options that allow them to bet on the outcome of the first half of the match. Such markets are relatively straightforward than their full-time versions, and rookies can try them out before betting on Moneyline. However, a more challenging market combines both the half-time and full-time results.
The half-time/full-time market requires bettors to correctly predict the outcome of the first half of the match and the overall result.

Several Australia A-League matches in the Half-Time/Full-Time or HT/FT market by CMD 368.
In the HT/FT market, bettors will have to guess the outcome in both the first half of the match and the entirety of the game. Below are the bets people can make in this market and what they mean:
HH – Home team wins in the first half as well as the entire match
HD – Home team wins in the first half, but the game ultimately ends in a draw
HA – Home team wins in the first half, but the away team wins the match
DH – The first half ends in a draw, but the home team wins anyway
DD – The first half ends in a draw as well as the entire match
DA – The first half ends in a draw, but the away team wins anyway
AH – Away team wins in the first half, but the home team wins the match
AD – Away team wins in the first half, but the game ultimately ends in a draw
AA – Away team wins in the first half as well as the entire match
Rookie bettors might already find it challenging to figure out the outcome of Moneyline betting, and they'll only find it harder to guess two different results. They should consider sticking to either Moneyline betting or the first half 1X2.
Conclusion
Sports bettors will see many different betting markets when betting either through Singapore Pools or an online casino offering sports betting in Malaysia and Singapore. Betting blindly won't lead to wins, and rookie bettors can easily get burnt out. The markets mentioned above aren't suitable for rookies, and they should consider sticking to more straightforward bets like double chance.
Register at 88ProAsia to start betting on sports through a reputable online casino today.
Read More: Key Betting Principles Sports Bettors Need to Remember