The FIFA Women's World Cup is one of the most anticipated football matches in the gambling and sports industry. It offers vast opportunities and potential for players and bettors who want to profit from online soccer betting Singapore. Among other events, this tournament remains the top priority of FIFA (Fédération Internationale de Football Association), bringing women's football into the mainstream industry. 
Last 2020, Australia and New Zealand won the votes to co-host the Women's World Cup in 2023. The tournament will kick off this July 20, 2023, and will be played in 10 stadiums, including:
Hindmarsh Stadium
Eden Park
Brisbane Stadium
Dunedin Stadium
Waikato Stadium
Melbourne Rectangular Stadium
Perth Rectangular Stadium
Stadium Australia
Sydney Football Stadium
Wellington Stadium
With many countries participating in the event, sports enthusiasts, experts, and bettors are eyeing teams with the best performance, skills, statistics, and Singapore Pools soccer odds. These factors will help them determine which group will likely win this season.
Qualified Teams Competing in the 2023 Women's World Cup
For the first time in history, this season's tournament will feature 32 teams categorised into eight groups. The leading two teams from each group will proceed to the 16-team knockout stage and play in a win-or-go-home match. Winners from the semi-finals will advance to the championship game on August 20 at Stadium Australia.
Below are the qualified teams and their corresponding groups: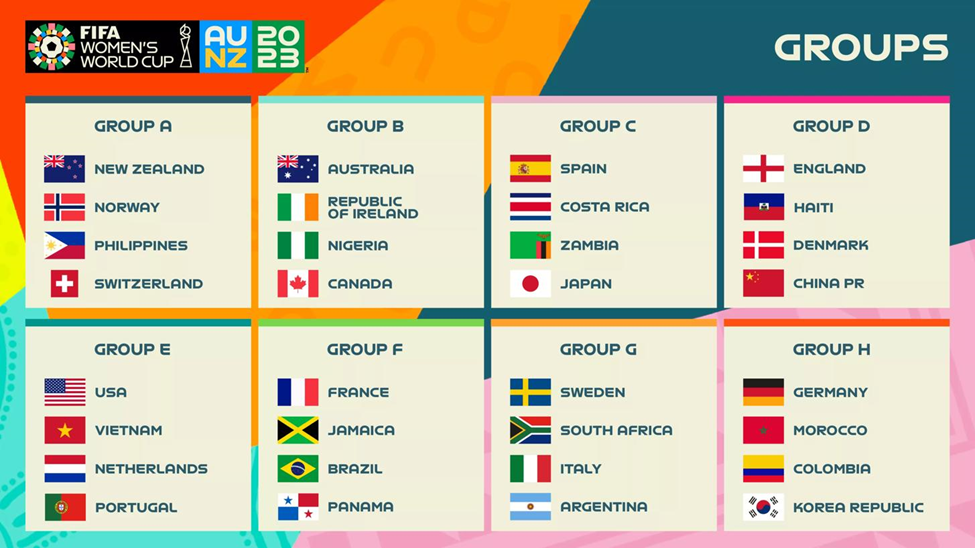 Top 10 Favourites to Win the 2023 Women's World Cup Tournament
Spain
Despite seeing 15 players resigning from the national team last September 2022, Spain's performance has dramatically improved, making it one of the favourite World Cup contenders. Many soccer fans expect them to challenge for the title and perform excellently to regain their flag amidst the issue of their current selection. 
Netherlands
Netherlands experienced unlucky plays during UEFA Women's Euro 2022 after losing some key players, including Vivianne Miedema and Jackie Groenen. However, the team is ready to introduce different talented players to represent a new generation and win the title. Daniëlle van de Donk, Lieke Martens, and Jill Roord are some of the key players that will bring vast experience and potential to the tournament.
Canada
Canada has shown their dedication and passion for sports in international soccer tournaments. They consist of all-time top goal scorers like Christine Sinclair, Kadeisha Buchanan, and Jessie Fleming. Athleticism, crossing ability, and intelligence are just three attributes Canada is expected to show in the 2023 Women's World Cup.
Brazil
Brazil is one of the toughest contenders in the Women's World Cup. They have been in the tournament with some of the best players since the first game in 1991. While they can win the championship, they have been defeated by the United States, Canada, and Sweden since 2022.
France
France is often considered an underdog in the tournament. However, sports analysts and bettors are eyeing its performance. With its newly appointed coach, Hervé Renard, the team is set to play in the best shape with new approaches and tactics. In last year's UEFA Women's EURO tournament, France reached the semi-finals even without their top scorers.
Australia
The Australian team has always been in the FIFA Women's World Cup quarter-finals, making it one of the strongest competitors in the event. From counterattacks to free-kicks, this team provides unpredictable plays. They explored multiple formations until they settled on a 4-2-3-1 play. Sam Kerr, one of the team's top scorers, came to the list of the 100 Best Female Footballers in the World.
Sweden
Sweden is known for their consistency in the game. They are one of the frontrunners in prestigious tournaments like the World Cup, Olympics, and European Championships. They also performed an impressive winning campaign in France 2019, followed by a better performance at the Tokyo Olympics, where they faced the USA in reaching the finals.
England
England is the reigning European champions following the last EURO 2022 victory. The Lionesses' status was strengthened by their winning experiences in the past year but is expected to be different this season.
Team captain Leah Williamson is out of the 2023 World Cup as she sustained an anterior cruciate ligament injury (ACL) last April 2022. Beth Mead, one of the team's star players, is also expected to miss the match after having an injury last year.
Germany
Most European fans support Germany when it comes to international football. Not only because they are part of Europe but because they previously won six European Championships.
One of their top scorers, Dzsenifer Marozsán retired from joining the international tournament. However, the German squad is still packed with skilful and outstanding players, making the team well-balanced and equipped with strategies.
United States
The United States of America is the back-to-back reigning champions of the FIFA World Cup. They are also number one in the FIFA world rankings, making them the hardest team to beat in 2023. They have triumphed 21 games out of their last 24 matches, including some of their strong contenders like Canada, Brazil, and Germany.
Soccer fans should watch out for rookies like Sophia Smith, Trinity Rodman, and Alyssa Thompson as they set a new play for this 2023 World Cup.
Football Betting Markets for the 2023 FIFA Women's World Cup
After learning the favoured teams for the 2023 World Cup, it is essential to understand what betting market football enthusiasts can wager on. Here are some of them:
First-Team-to-Score Betting
In this bet, the bettor must predict which team will score first in a particular game. This betting requires in-depth research into the team's statistics and performance.
Over/Under Betting Market
Over/under betting, also known as totals betting, involves predicting the combined number of goals or scores by both teams in the match. In this bet, you need to correctly predict whether the total score will be higher or lower than the number set by the bookmaker.
Draw-No-Bet Market
The Draw-No-Bet market acts as your insurance in sports betting. Similar to match winner betting, you need to wager on the team you think will win a match. But what makes this betting market different is your wager is refunded if the game ends in a draw. Consequently, you will also lose your bet if your chosen team loses the match.
Where to Bet for the 2023 Women's World Cup?
Looking for a reputable and trustworthy gambling site can be challenging. Fortunately, 88ProAsia offers a reliable and safe betting platform for football events like the 2023 Women's World Cup. We provide the best sports odds, making your gambling experience remarkable. Aside from football betting, we offer casino games with many bonuses, promotions, and incentives. Register here to start your betting journey.